Cutting, engraving, milling, cutting are activities that we can undertake. We use our equipment for this: laser plotter, milling machine, thermal plotter, what in combination with our many years of experience gives you a lot of opportunities.
We will do a number of things for You …
... for Your company:
3D spatial letters, engraved external plates, information and door plates, marked gadgets and schedules, packaging prototypes
... for Your home:
milled MDF openwork separating rooms, wall ornaments, decorative tops for home and garden tables
... for You and Your loved ones:
personalized gifts with wishes, e.g. glasses, wallets, pens, occasional plates
... for Your car:
discreet and tasteful letters made of laminate, filling in cavities, car markings, reconstruction of emblems
Among the processed by us materials, there are: wood, plastics (plexiglas, pvc), dibond, leather, glass and a number of derivatives. Detailed possibilities as well as limitations of our capabilities can be found in the table.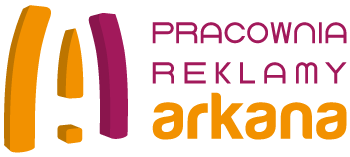 Our company ARKANA Advertising Studio has been in existence for over 20 years. During this time we have gained a lot of knowledge and experience. We are constantly developing and expanding our back-up facilities. We provide all kinds of advertising materials and more.See what else we can do for You:
On-line printing


The On-line printing is a modern, convenient and efficient printing tool.
Advertising gadgets


We offer a wide range of advertising gadgets. We provide full labeling.
Large format advertising


The large format department offers services related to the presentation of a large format company.
Advertising clothes


We make markings on various types of clothing using various technologies.